We're going to a concert in the park, I have to make 2 or 3 appetizers for it.

I plan on making a spinach dip, but not sure what else to take.

Suggestions please! (no chicken please)
I am in search of some appetizers that don't have to be served hot but rather cold or at room temperature.
8 lasagna noodles
1 tablespoon olive oil
1 (10 ounce) package frozen chopped spinach
2 tablespoons thinly sliced green onion
1 pint part-skim ricotta cheese
1/4 cup grated Parmesan cheese
1/2 teaspoon salt
1 egg
21 ounces Alfredo-style pasta sauce
1 cup shredded mozzarella cheese
Bring a large pot of lightly salted water to a boil. Add lasagna and cook for 8 to 10 minutes or until al dente. Rinse in cold water and drain well.

Meanwhile, in a large sauce pan over medium heat add oil and cook broccoli or spinach and green onions until tender, stirring frequently. Remove pan from heat and stir in ricotta cheese, Parmesan cheese, salt and egg.

Preheat oven to 375 degrees F (190 degrees C).

Place noodles in a single layer on a sheet of waxed paper. Evenly spread some of the cheese mixture on each noodle. Roll up each noodle from the short end, jelly-roll style.

In a 8x12 inch baking dish, spoon about 3/4 of the Alfredo sauce on the bottom and spread evenly. Arrange the rolled noodles, seam side down, in the dish. Top with mozzarella cheese and remaining sauce. Cover loosely with foil and bake in preheated oven for 30 minutes or until hot and bubbly and the cheese is melted. Serve.
(I added chopped chicken to the mixture, they turned out yummy!)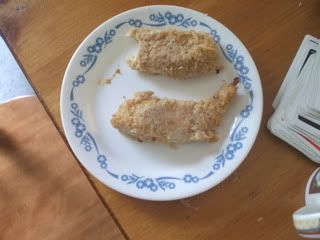 (all that was leftover!)
*courtesy Giada DeLaurentis
ingredients:
4 tablespoons plus 1/2 cup extra-virgin olive oil
1 cup buttermilk
1 1/2 pounds chicken tenders (about 18)* I used 7 large boneless/skinless chicken breasts cut in half to serve 6 people and there was a ton leftover*
1 1/4 cups freshly grated Parmesan
3/4 cup Italian-style seasoned bread crumbs
1)Preheat the oven to 500 degrees F.
2) Brush 1 tablespoon of oil over each of 2 heavy large lined baking sheets.
3) Place the buttermilk in a large bowl. Add the chicken tenders and stir to coat. Let stand at least 15 minutes and up to 30 minutes.
4) Stir the Parmesan and bread crumbs in a pie dish. Remove the chicken tenders from the buttermilk and dredge them in the bread crumb mixture to coat completely, pressing to adhere.
5) Arrange the coated chicken tenders on the prepared baking sheets, spacing evenly. Drizzle the remaining 2 tablespoons of oil over the chicken tenders and bake until they are cooked through and golden brown, about 12 minutes.
really good!
Behind the cut is a picture and the recipe, not that it takes genius brains to figure out how to make it lol-
(
Read more...
Collapse
)
I made mozzarella an asparagus stuffed chicken breasts...MMM soo good...


I have had the "cadillac" of bread machines for about 2 years now...I've used it TWICE. Yep...2 x...because I never get it to turn out right.

I'm looking for your easy fool proof bread machine recipes.

k thx
Doing my wifely duties....

1/2 cup chopped green peppers
1/2 cup chopped red peppers
2 cups Thick 'N Chunky Salsa, divided
1 cup Shredded Sharp Cheddar Cheese, divided
2 Tbsp. zesty Italian Dressing
8 corn tortillas (6 inch)
2 Tbsp. chopped fresh cilantro



PREHEAT oven to 400°F. Cook meat and peppers in large nonstick skillet on medium heat until meat is no longer pink, stirring frequently. Add 1 cup of the salsa; simmer 3 to 4 min. or until peppers are tender. Remove from heat; stir in 1/2 cup of the cheese.

SPREAD 1/4 cup of the salsa onto bottom of 13x9-inch baking dish. Brush dressing lightly over both sides of tortillas. Stack 4 of the tortillas on large sheet of waxed paper; wrap tortillas in waxed paper. Microwave on HIGH 20 to 30 sec. or just until warm. Immediately spoon 1/3 cup meat mixture down center of each warm tortilla; roll up. Place, seam side down, in dish. Repeat with remaining 4 tortillas and remaining meat mixture. Spoon remaining 3/4 cup salsa evenly over filled tortillas; cover with foil.

BAKE 20 min. or until heated through. Uncover; top with remaining 1/2 cup cheese. Bake an additional 2 to 3 min. or until cheese is melted. Top with cilantro.

I wasn't so sure I'd like this recipe, but it ended up being really tasty.
1/2 lb. extra lean ground beef


thanks in advance!

x-posted.
so tonight after making dinner, i realised my repetoire needs a little boost. i need a few new recipes to try out. something. anything. indian. thai. chinese. italian. eastern european. i'm willing to try just about anything. i cook for me and my boyfriend, but i can make anything that makes a large amount...considering i usually take leftovers to work for lunch(es) and he eats like...well...like a boy....
First time making lasagna, so I need a really easy, simple to follow recipe, thanks!


thanks!
Okay, my boyfriend went crazy at the store and brought home a 20 pound bag of ground beef and boneless chicken breasts! So, I need some easy to follow recipes for those things in the cock pot (I go to classes all day and work all evening, it's just easier that way)
whole wheat wrap
a can of black beans
any mix of frozen veggies (i like using peas, corn and carrots)
about 1/4 onion
seasoned salt, pepper, chili powder, garlic powder
shredded cheese- i like the mexican flavored
salsa
i just mixed up all the veggies and onions in a frying pan, seasoning them to taste. after the veggies were almost cooked i added the beans and let everything simmer. i warmed up the wrap a little (dont toast it, it gets too crispy and you cant roll it up) and then put the veggie mix on the wrap. i added a little cheese on top and some salsa and rolled it up and YUMMMMMMM. super healthy, super easy and you can heat up leftovers for the next day!
i love beans and i love burritos so i created my own recipe